Buffy Sainte-Marie is having a busy year. When we connect by phone in late July, she has recently returned from playing a concert in Toronto and has had to cancel upcoming tour dates in western Canada due to a bout of COVID. But the singer-songwriter is cheerful and bright despite the disap­pointing turn of events. She's also happy to be home at her farm in Hawaii, where she's lived for decades. "I'm too doggone busy," she says. "What I really want to do, what I live for after I get done with all my Zoom calls and my writing and my check­ing this and providing that—I go out and I garden. I pull weeds, then I come in the house, and I do dishes. It's so lovely." Tending to these daily tasks helps ground the 81-year-old artist. "When I go on the road, I miss having a house and a home, so if I go to somebody's house, I always want to do the dishes," she laughs.
Besides touring and performing again after the pandemic took her temporarily off stage, Sainte-Marie has also been occupied doing what she does best: creating. Pulling threads of memory and inspiration together to produce her art. The latter has occupied much of her time over the past year in favour of a particularly special project: participating in the first full-length documentary about her life and work, Buffy Sainte-Marie: Carry It On. Produced by Toronto's White Pine Films and Manitoba's Eagle Vision and directed by Winnipeg-based filmmaker Madison Thomas, the film explores the story of one of the world's most important living music legends. Following the Saskatchewan-born Cree musician from her early days in Maine and Massachusetts through her lightning ascent to fame in the '60s New York folk scene and the lower points of a life not unmarred by hurt, the documentary paints a riveting portrait of a woman who continues to defy categorization. Buffy Sainte-Marie is a singer, writer, visual artist, activist, educator, mother, partner, and survivor. She's a public figure who once withdrew from "showbiz," as she calls it, and was also blacklisted by more than one US government administration. But what Thomas's documentary makes clear is just how much Buffy, as her fans know her, remains more than the sum of her many parts.
"I think she's a genius; I really do," says journalist Andrea Warner, Sainte-Marie's authorized biographer and a co-producer and co-writer on the film. "All the areas of her life that people might think of as compart­mentalized inform her work and her art and her activism and philosophy. She has so much creativity and curiosity and hope. I think of her as the centre of a million circles that are all spinning at once. They all overlap at different places and build to form one larger circle. There's something endless and timeless about her work. I think it's because she's always centring truth and compassion, and has stayed true to her sense of justice, wonder, duty, and care."
Buffy Sainte-Marie began her life in the Qu'Appelle Valley in Saskatchewan before being adopted by a family in Massachusetts, where she discovered music at an early age and taught herself piano and guitar. After studying for a degree in education and philosophy, fate landed her in the heart of Greenwich Village's emerging folk music scene, where she rubbed shoulders with the likes of Bob Dylan and Joni Mitchell. Music quickly became her path. In the '60s and '70s, she used her natural gift as a writer and composer to pen some of her most enduring hits, songs like "Universal Soldier," "It's My Way," and "Until It's Time for You to Go." Her anti-war message and vocal commitment to raising awareness around Indigenous issues eventually saw her blacklisted from radio stations in the US just as her career was reaching its height. But this didn't stop the artist from forwarding her message using other avenues. Featured as a regular cast member for five years on Sesame Street, Sainte-Marie contributed to breaking stereotypes about Indigenous cultures and people on the hit children's show. She later went on to star in several television series and films, and in 1983 was the first Indigenous person to win an Academy Award for her song "Up Where We Belong" from the film An Officer and a Gentleman (1982).
In Buffy Sainte-Marie: Carry it On, some of the greatest names in folk music history share their effusive admiration for the artist. For Thomas, it was important that these voices carried a real connection to Sainte-Marie, though: "Film is a business—you need big names, just like narrative films sometimes do. And we wanted to give context to Buffy. But for me, those big names needed to be more than just names," she says. "I wasn't interested in someone who'd vaguely heard of Buffy say­ing she's great just because they're a celebrity. People like Taj Mahal, people like Joni Mitchell, Bird Runningwater—those are big names that could give us context for her impact on the music scene but also had a personal connection to her," says the director. "Taj Mahal spoke with such deep love and compassion for her. They're still friends; they both live in Hawaii together and their sons are friends. Those are the people I really wanted to talk to. Anyone can make a biopic on someone's career, but I was interested in her as a human first and foremost."
Thomas was tapped by Eagle Vision, an Indigenous-helmed produc­tion company that helped mentor the Ojibwe/Saulteaux and Russian/ Ukrainian filmmaker in Winnipeg early in her career. "I think every Indigenous filmmaker has probably dreamed about making a film about Buffy," says Thomas. "She's an absolute legend in our community and it's such an amazing story. I don't mean this in a [falsely] self-deprecating way, but I never thought my name would be in consideration, because we have so many legends in the Indigenous documentary film community."
The project is Thomas's first feature documentary, and before she was greenlit to direct, she had to meet with Sainte-Marie to gain her approval. "In our first Zoom call, I tried to make it as clear as possible that I was interested in telling her story in a way that felt authentic and true and collaborative with her," says Thomas. "A big part of Buffy's story is that it was [often] not shown through her lens. She was really limited in terms of her authentic voice for so long, the story was skewed for so long, by studios and especially with the blacklisting down in the States. As a documen­tary filmmaker, I don't believe in being exploitative or extracting pieces of someone's life. Especially someone whose narrative has already been altered and shifted. I'm interested in just holding up the lens to someone's own story."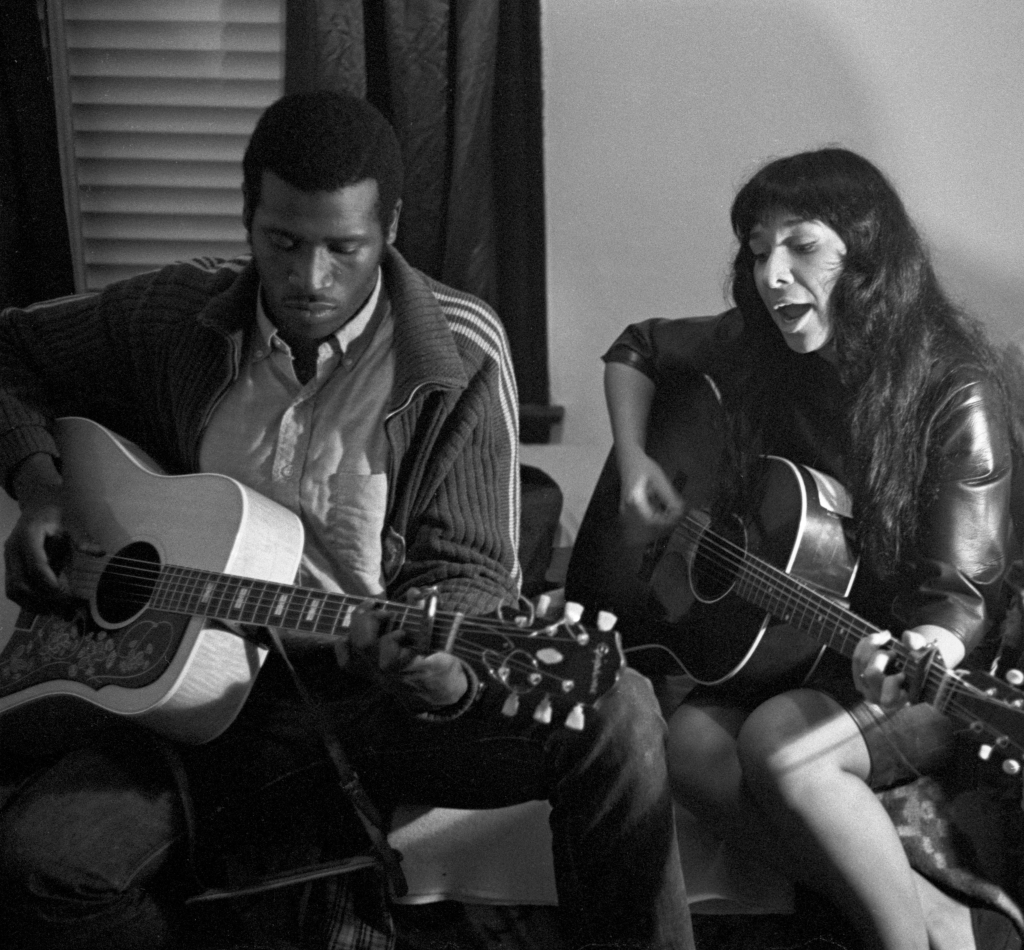 Thomas is aware of the colonial nature of extractive storytelling, and the collaborative design of the film's production was in part a pushback against it. Thomas, Warner, and Sainte-Marie devoted a significant amount of time and energy to ensuring that the story being told about Buffy was an accurate and meaningful one. They had weekly Zoom meetings where each would call in from her respective location—usually Winnipeg for Thomas, Vancouver for Warner, and Hawaii for Sainte-Marie. "It was a lot of fun once we got a rapport going," says Thomas. "It was also quite funny—me and Buffy are both pretty non-linear thinkers. I jump all over the place and so does Buffy. Andrea, thank god, is a very linear thinker, and could kind of keep us on track and make sense of our ramblings and put them in lovely succinct notes. I'm so very thankful for her part of that process. But a lot of it was just getting to know each other and seeing what similarities the three of us had as storytellers who all use different mediums."
Thomas also leaned on the pre-existing relationship between Warner and Sainte-Marie, which developed as Warner was writing her book, Buffy Sainte-Marie: The Authorized Biography in 2017 and 2018. "The reality of this film is that we were making it at the height of COVID. Buffy was touring a little bit, which we did join and fol­low for parts, but in-person interaction was still really tough. It's hard to try to build a personal, trusting relationship in a short amount of time either over Zoom or in very condensed in-person interactions, masked up and distanced and with all the tension of COVID during a busy touring season," she says. "Neither are ideal. But having Andrea involved early on—they had such a history and such a trust, so I just took a lot of cues from Andrea and was more of a listener, absorbing how the two of them talked."
For Sainte-Marie, the trust came hand-in-hand with her appreciation for and familiarity with both women: "I know Andrea because she wrote my biography. I trust her with the information. I know she gets it. She doesn't just connect things to be spectacular or for a bang," she says. "And Madi, I'd seen her work before, and I have a lot of respect for her as a filmmaker."
Like any film, and especially a documentary about someone's life, things must inherently be left out. Thomas says that she could make a whole second film from the material that got abandoned on the editing-room floor. "If I ever had the opportunity to do an extended cut of this I so gladly would, because this film could easily be four hours long, seven hours long, nine hours," she laughs. "I don't know of many humans who have this many interesting stories within their life."
Despite the time and content constraints, Thomas's film is still chock-full of context and colour. Not only are viewers in for a detailed and comprehensive look at Sainte-Marie's career, music catalogue, activism, and personal life, they'll also be treated to immersive concert footage, some dating back to the 1960s, and rare archival interview clips that capture the musician's charismatic personality. Buffy Sainte-Marie: Carry It On also features animated segments and a sound mix engineered by Sainte-Marie herself, in collaboration with her long-time music partner, Chris Burkett, and Métis composer Justin Delorme.
"Everything 'Buffy music' in there will be handled by them," says Thomas. "Again, part of Buffy's story is not having control of the sound of her music pretty early on, so it was very important that she get that final say on the versions of songs." The doc also includes re-enactments of pivotal episodes in Buffy's early life. Depicted by actors, the scenes help to breathe three-dimensionality into the stories behind some of the artist's most famous songs, including "Universal Solider" and "Cod'ine."
For Sainte-Marie, the experience of making the film was an informa­tive one. She had already dug into her life history with Warner's book and a second biography, but there were some surprises still. "I'm not 21," she laughs. "I've had almost 60 years of being a professional, so there's a whole lot you're going to have to leave out. But everybody did research. They showed me videos and interviews and stuff that I didn't even recognize and hadn't seen before." She relates a fact that many fans might overlook: "When you're a professional on the road, everybody thinks you're real creative. Actually, you're not; you're just trying to catch up on sleep and survive. And you don't really get to see your own backwash. By the time CBC or CTV or somebody mounts something that I did yesterday, I'm gone, I'm in the next town… I don't get up and watch the news in the morning because I've got a six-hour jetlag!"
Sainte-Marie describes the process of looking back on her life and deciding what to include as akin to writing a song. "When I was writing 'Bury My Heart at Wounded Knee,' it took years and years to put my words and my emotions and my understanding and research together. I started writing the song and kept looking back into old notebooks and writing about the events that showed up there. It's kind of the same thing I did when I worked with Andrea for the biography, or White Pine and Madi for the film. I'm seeing what the themes are in my life and circling back to them. Because many of the things that would appear to be headlines, or icebergs sticking out of the water, there's a whole lot more beneath."
The same is true of Thomas's film. While the headlines are there—the icebergs of Buffy losing the rights and credit for "Universal Soldier" (which she eventually had to buy back), being blacklisted by the Nixon and Johnson administrations, and leaving public life to raise her son for 15 years—the themes glinting beneath are the diamond-like core: Sainte- Marie's unwavering commitment to Indigenous rights and activism, her conviction in speaking truth to power, and "war, peace, love songs, and the countryside," as she puts it. "I think my basic template is just the same as it was when I was a kid. I've been lucky enough to retain that childhood sense of self-permission. Childhood agency. Because I had no power as a child except within my own head and heart."
"A metaphor that we use in the film is that Buffy's life is kind of like a sweetgrass braid," Thomas tells me. "It's all these individual strands that at a distance look separate, but it's all woven together." One overarching thread in the director's mind is how Buffy has always been a visionary. "Buffy is 50 years ahead of us. Hands down. Way back in the day she was calling to rescind the Doctrine of Discovery and that conversation is just starting now on a larger scale. She's a pioneer in digital art and in her work with education for Indigenous students. It's across the board in every facet of her life. It's not too late for the rest of us to catch up, and I think a good start is hearing her story and listening to her music and message," she says.
Warner agrees and hopes that people will leave the film and immediately look up the musician's back catalogue if they're not already familiar with it and "listen to it, learn from it, and let it change them."
"In 50 or 100 years, we'll realize that a leader really did live among us," Warner predicts. "The music is going to live on, her messaging is going to live on. Buffy has always lived in the future and has always seen it, because she's always been very deeply connected to her past. She understands beautifully that time is not a linear thing. We go in cycles, we go in circles, so we always have to be sowing seeds for the future."